Are you looking for the top war games for iPhone? Fun-loving games with cheerful themes are All ok, but they don't always get chosen. Especially if you want to play against all odds to test your gaming skills. Strategy games are helpful when you want your murderous methods to be as effective as your lethal tools.
So, if you're ready for exciting missions packed with crazy obstacles, check out these 20 top strategy games for the iPhone and iPad.
Which Types of Strategy Games Are You Seeking?
Numerous strategy games are available in the App Store. You have a wide range of options to explore, including real-time strategy games for fighting, riddles, strategically developing cities and old-school stick figure games.
Empire-building can be your ideal career choice if your natural talent is for creativity. War games might be the way to go if you enjoy leading an army through exciting battles to triumph. Survival games like Valheim, where the deck is stacked against you, maybe more your style if you want to develop your problem-solving abilities.
While some games give set gameplay, others offer various gameplay options. Your preferred gameplay style and your comfort level with a particular difficulty will determine your choice.
List of Best IOS War Games for iPhone
The best IOS War Games for iPhone are those that offer a different take on the genre. These games are not just about the action and strategy of war, but also about the human side of it. They offer an immersive experience that is impossible to find in any other medium.
The following is a list of some of the best IOS War Games for iPhone:
1. Rise of Empires: Fire and War
In the real-time strategy game Rise of Empires: Fire and War, also known as ROE, you take on the role of the mayor of a tiny town. The tiny village, destroyed by the eastern dynasty assault, looks to you as a saviour who will rebuild the empire from the wreckage. Therefore, train your forces, choose famous heroes who will give their all for you, and join strong friends who will fight beside you in the never-ending conflict.
Rise of Empires is thrilling to play because of its realistic graphics, furious fighting with other players worldwide, and strategic gameplay. Along with fulfilling your hunger for conflict, ROE grants you the freedom you need to design a fantastic city with top-notch amenities. In order to get some mental calm after using up all of your energy on the battlefield, you can work with your heroes to build a city.
2. Clash Royale
Clash Royale has all the necessary components to become your go-to destination for action-packed battles. It is regarded as the top game in the "Strategy" category (4.6 stars out of 5 from over 2M ratings). The real-time multiplayer game revolves around creating a battle deck and annihilating your opponents with your strength and intelligence.
To begin, choose unique cards and strategically arrange them to topple the enemy king and princess from their towers. To acquire a ton of new cards, use all of your power to win battles and advance to new arenas. Additionally, it gives you the chance to compete in international tournaments and display your courage while winning prizes.
Aside from engaging in action-packed battles, you may collect and upgrade cards that feature troops, defences, spells, and other Clash of Clans elements. Not only that, but you will also enjoy obtaining seasonal stuff like emotes, magic items, and tower skins. Clash Royale stands out as one of the top strategy games for iPhone and iPad when all these extras are included, along with the engaging gameplay.
3. State.io – War Strategy Games
The strategic puzzle game "State.io" might be worth giving a shot if you feel like it. This cell fight game is made to test your reasoning with a strategic dot collision and an exciting country conquest. You will engage in combat with armies to solve riddles and conquer nations to increase your territory. Remember that every action you take will significantly impact you, so use your best action plan.
You can initially engage in 1v1 combat in this military simulation game. It enables you to engage in combat with more players as you pass the initial levels. You may play the cell war games with your friends and family without using up all your restricted bandwidth because it also functions offline.
4. Clash of Clans
Clash of Clans is for you if engaging in grand clan warfare and inspiring your soldiers to victory excites you. Building a strong town that can endure constant invasions, growing a sizable clan, and ultimately demonstrating your bravery in clan conflicts are the goals of this strategy game. To win the battles, you must develop a strategic battle plan involving troops, spells, and heroes before going for the kill.
With so many traps, mortars, cannons, bombs, and towers available in Clash of Clans, you may constantly assault foes and protect your village with your weapon of choice. To upgrade your village and unlock amazing heroes like Royal Champion, Battle Machine, Grand Warden, and more gather as many resources as possible and steal desired things.
In the legend league, you can compete against gamers from around the world and get to the top of the global scoreboard. Create engaging PVP experiences through friendly wars and unique live events if you want to add some individuality to the mix. Clash of Clan by Supercell never fails to excite you with its beautiful graphics and captivating gameplay.
5. Iron Marines: RTS Offline Game
Iron Marines has never failed to impress me, and I'm a big fan of real-time sci-fi combat. The game demands the most of you as a leader with its high-octane gameplay, which requires you to direct soldiers and strong aliens to battle space monsters and robot armies. To defeat the hordes of insectoids and robot armies, you will need to adjust your strategy, the duties of your troops, and how you organize your attacks.
The arsenal of Iron Marines is constantly expanding. So you have a variety of weapons to choose from, whether you want to wreak havoc with missile launchers or battle space monsters with snipers. There isn't much to complain about with this space odyssey's riveting combat, top-notch graphics, over 70 achievements, more than 20 campaign missions, and over 40 upgrades to create the ideal RTS army.
6. Stick War: Legacy
Games using stick figures may be a little more complicated, especially for beginners, but you'll want to keep playing once you get beyond the learning curve. They are therefore regarded as being quite addictive. Stick War: Legacy is the only outstanding stick figure game you need to try.
You can command your army in formations in this real-time strategy game for iOS, or you can select to play each unit individually. Build powerful units, become an expert in sword, archer, and spear, and you will be battle-ready. Destroy enemy monuments to increase your control over new areas. Don't hesitate to mine gold when the chance presents itself.
Standard, hard, and mad are the three levels of difficulty. It has some game styles, such as deathmatch, win before sunset, triple barricaded gold, and others, to keep you from becoming bored. The zombie survivor mode, where staying alive is a tremendous task, has appealed to my taste more. It's about how long you can withstand attacks and remain alive. A tournament mode is a superior option, though, for showcasing combat prowess in all its grandeur.
7. XCOM: Enemy Within
The squad-based strategy game XCOM: Enemy Within is likely to win you if you are a massive fan of them. The most impressive aspect of this strategy game is arguably the beautifully drawn turn-based combat in 3D. For those who don't know, XCOM: Enemy Within is the expansion for XCOM: Enemy Unknown and has gameplay that is precisely the same.
XCOM: Enemy Within is a joy to play, thanks to the addition of a ton of missions, fresh enemy threats, tactical resources, and multiplayer maps. Furthermore, it includes many brand-new tools and weaponry so you can arm your agents.
This squad-based strategy game's investigation of the terrifying threats and all-out defence of the headquarters against extraterrestrial assaults are two of my favourite elements. You might enjoy them if you're a fan of thrilling battles.
8. Boom Beach
Boom Beach is a battle strategy game from Super Cell packed with action. As a brave leader, you will have to attack the enemy's bases to liberate the islanders who are held captive and reclaim the beaches. You'll need to assemble a capable team of players from all over the world if you want to complete the job. Once a task force has been established, develop a strategy, then carry it out flawlessly.
You will discover many of the tropical paradise's secrets along the way and the mysterious power of the Life Crystals. However, watch out for the blackguard bosses since they will quickly sabotage your entire strategy. Remember that not all features are accessible in the freemium edition.
9. ROME: Total War
This one is designed for those who enjoy epic fights where deft tactics take center stage. If you are one among them, ROME: Total War ought to suit your preferences. A vast empire is built and ruled in ROME by demonstrating your bravery in bloody battles in captivating turn-based campaigns.
Putting aside 3D fights and controlling the economy to satisfy everyone's needs and aspirations is something that will bring out the best in you as a leader. Furthermore, you will have to deal with civil and religious matters while in charge. Even if ROME: Total War's $10 price tag might seem costly, creating original empires and taking part in epic conflicts is your thing, and it won't let you down.
10. Total War Battles: Kingdom
You would never get bored playing a strategic game like Total War Battles. Building a medieval kingdom and annihilating competing lords in on-the-fly conflicts are key aspects of the game. You will initially need to gather troops and educate them so that they can protect your kingdom during major conflicts, as is typically the case in war games.
You can work with Vikings to explore new lands and increase your domain to establish your control. You have the freedom to create a powerful kingdom in Total War Battles any way you see fit. As a result, you can build the cities of your dreams, complete with top-notch amenities. Your number one priority as a ruler is to manage the economy.
Total War Conflicts keeps you in the moment of epic battles with its retro graphics and complementary soundtrack. And if you enjoy creating and carrying out plans, you'll enjoy returning to the game to pass the time.
11. Citytopia
Try Citytopia if you're looking for a life without titanic battles. You'll develop a deep affection for city-building games as a result. It has a range of components to provide hours of entertainment, whether building fantastic cities with all the amenities of the modern world to fulfil the aspirations of the residents or taking on challenging tasks.
As you progress, you will have the opportunity to open up additional areas, purchase more property, and grab power-ups to help the economy. Please keep in mind that every choice you make will have an impact on your community and its residents. Therefore, create landmarks, skyscrapers, and parks while considering your population and economy.
Notably, Citytopia also contains a few complex tasks that you can finish to get lots of power-ups to speed up your game progress.
12. DomiNations
DomiNations promises to be a top choice for anyone who can't get enough empire-building and war tactics. Building a nation with a sizable army and then demonstrating your power in conflicts to enlarge your area is the focus of the entire gameplay. You can engage in PvP battles with other players or form powerful alliances to take over the globe.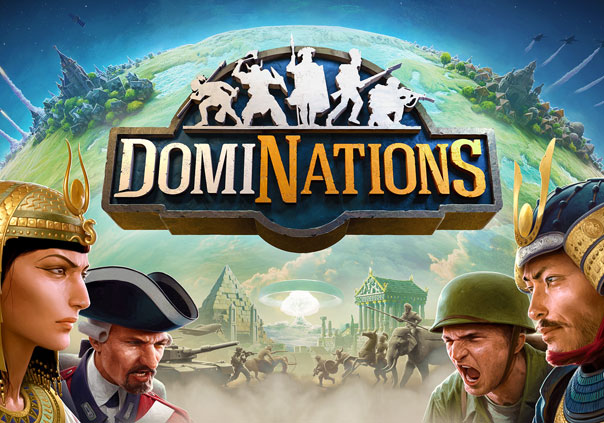 Keep in mind that the gameplay of DomiNations demands you to research war tactics and apply them to the game. So, before starting a fight, be sure you have a clear plan. Beyond combat, you'll enjoy setting out on historical campaigns and experiencing every culture, from the Romans to the Japanese. Not to mention, creating historical marvels like the Egyptian Pyramids and the Roman Colosseum is fascinating.
13. Kiss of War
A unique twist can be found in the war strategy game Kiss of War. A gang of stunning women are battling the invaders with allies in the game's central conflict. To lead the war, you must recruit female officers and educate your troops as the game's commander. It also calls for you to rally other commanders on a quest to drive out invaders and end the conflict.
Thanks to the game's clever control scheme, you can direct several troops to march and even change targets on the battlefield. Thus, you will constantly feel like you have total control over the competition. You can select from various countries to participate in the military strategy game. Each nation faces unique difficulties because of its distinctive characteristics, battle troops, and famous war machines that have served the nations throughout history.
The cities and battlegrounds have been designed based on the geography of late modern Europe, which is essential for making the conflict scenes realistic. To further enhance the realism of the war scenes, the renowned war machines have also been exquisitely reproduced.
Conclusion
It's fun to play all of these games. The most fantastic option for you, if you enjoy playing the finest iOS war games on your iPhone, will be Clash Royale. However, Clash of Clans can be your game of choice if you love casual war games.